Unique Stackable Name Rings
Name rings are one of the most meaningful pieces of jewelry you will ever encounter. Adding the name of your loved one or loved ones to your ring will let you create a special place for the people that are closest to you. As we must all love ourselves as well, having your own name together with other powerful words that define you, is also something that stackable name rings enable you to do?
A great thing when it comes to stacking name rings on any of your fingers is that the combinations are basically limitless. Considering you easily have four or even more rings on a single finger, you are ought to have a completely unique set of rings with names. Furthermore, even after you have chosen your perfect rings, let's say you have four of them; you get to wear them in different orders, which give you a total of 24 ways to arrange your 4 rings in.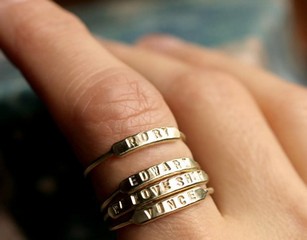 When it comes to placing names on rings, you are normally limited to 7 characters. Even though we are calling them "name rings" you should know you can choose any word as long as you stay within the character maximum limit.

You always have an option of mixing and matching, meaning you don't have to limit yourself to only rings with words on them. You can have a name only on one ring, while others can be rings with stones or some other shapes. As long as you feel like they go well together you are good to go.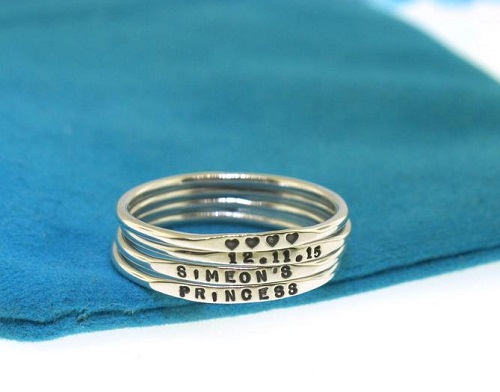 If you are a family-oriented person, having a set of sterling silver and gold rings with names of yourself, friends and family members can be extremely fulfilling. That way you can carry your entire family with you wherever you go. All it takes is a single look at the names on rings and you will think of your loving and supporting family without a doubt.

Since stacking name rings are without a doubt one of the most personalized and unique items, especially among jewelry, they can be a perfect gift as well. Any mom, wife, daughter, even grandma, would most likely be completely swept away by such a gift. As mentioned above, if you go beyond names, you can even create a very unique message that goes on throughout all the rings when stacked in the right order. One can really be as creative as s/he likes and comes up with potentially the best gift ever.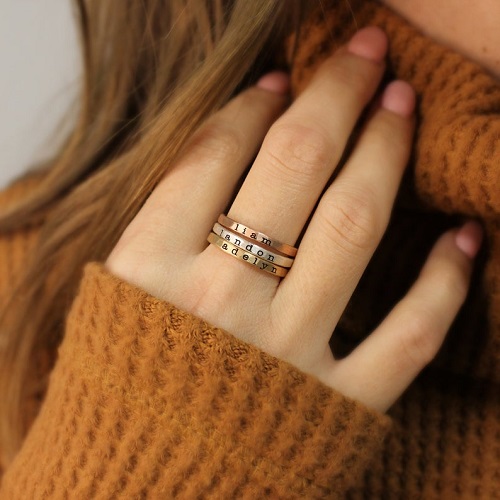 Sterling Silver Staking Rings with names are really a unique kind of jewelry with deeper meaning. If you decide to order stackable name rings for yourself or for some else, make sure they go well together and look good individually and as a unit. If you will go with one of the prearranged packs, this has already been thought through by the seller, however, if you want to stack up rings ordered individually, make sure to think in advance about their width and how will they look next to each other.
Shopping online is made easy at Zaful.com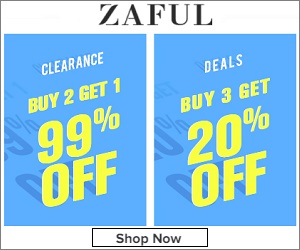 Online shopping for your dress and casual clothes are always easy at Zaful and they have ongoing special discount promotions for their latest arrivals of dresses, casual clothes, swimwear and accessories for Women and Men. Visit their online store page and don't miss their Sale Promotion only at Zaful.com.
Tags :
Zaful