Tips For Picking The Perfect Wedding Shoes
He popped the question and it's time for the best day of your life. It can leave you excited and nervous at the same time. While you want everything perfect on your wedding day, the excitement can mess a few things up for you. But we want you to take a deep breath and get along with us for the next five minutes because at the end of this article, you will know which wedding shoes will be perfect for your big day.
Great wedding shoes on a great wedding dress work as a cherry on the top of an ice-cream. There are few factors to consider while looking for wedding shoes and we understand that you do not know where to start from. So here are 5 tips for picking the ideal shoes for your wedding.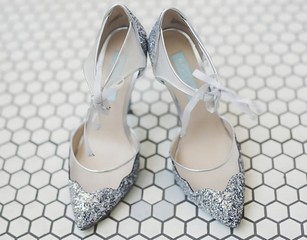 Match Your Theme And Dress
Let's narrow down your search to a great extent by just advising you to only look for a pair that can match your wedding theme and dress. For example, if a man with black-tie walks out with cowboy shoes or a girl dons sky-high heels in an outdoor wedding, things can go terribly wrong.
Check everything- starting from material, texture, color, and contrast. While some brides like to call their shoes as their "something blue", others just go with the contrast, color, and texture of their wedding dress.

Purpose
It's important to have a thought or purpose behind your shoes. Some brides with a simple dress make a statement with their shoes. Some brides match shoes with their partners. Some brides keep the shoes simply for walking and let the dress do the talking. It might feel like a silly thought but by nailing down the purpose of your shoes, you can actually centralize more on what style you want with bridal heels .
Height and Measurements
The length of your wedding dress is going to be a vital factor while choosing a pair of shoes for the big day. Always remember to try the shoes with the wedding dress beforehand and do the alterations in the dress if required. You do not want those ankles to show where they shouldn't be and you also don't want to trip over a long hemline.
Weather
This is a very rare case where some brides like to keep a plan B just in case weather goes to different tangent in an outdoor wedding. Keeping rain boots for a soggy day or winter boots for snow pictures is not a bad idea.

Comfort
After all these factors come to comfort. Never forget to get a comfortable pair because no matter how good they look, how well they shine, if you don't have a pair of shoes comfortable enough to carry you a whole day and most part of the night then you will never forget that annoying part of your wedding. Practice walking in those a few times. Don't keep the new ones for the best day because then you will not have any other choice but to flaunt them for the whole day. If you have plans for a heel, apply "liquid Band-aid" in the sensitive areas to prevent the foot from hurting. A much better option can be flats after a few hours so that your arches can rest.
Conclusion
Lace, strap, shuffle, or slide into your wedding shoes but make sure they go well with your personality. Make sure you show your personality in a proper manner and style. Rock them on your big day and leave everyone talking about your choice of perfect wedding shoes.
Buy Melissa Women's Plastic Flat Shoes and Sandals Online
The Melissa shoe have walked their way to 80 different countries, leading the way in contemporary style and must have footwear fashion. Checkout mdreams.com for new season releases, upcoming special offers and discounts for Melissa shoes.
Tags :
Melissa shoe