Alligator Handbags Then and Now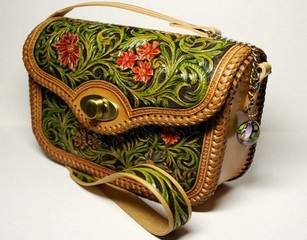 The first alligator handbags were manufactured in the early 20th century by leather goods companies. These purses beautifully displayed the animal's natural textures and colors such as olive green, brown, and tan, catching the attention of women around the world. Some of these vintage alligator handbags also featured the alligator's horns or paws.
Unsurprisingly, this trend continued into the 1950s. Fashionable women go for such types of designer handbags, which lent an air of sophistication, elegance and class. Designers also began dying the skins black, white, fuchsia, and jade, which gave women a new array of colorful choices to match their diverse wardrobes. Celebrities such as Ingrid Bergman and Grace Kelly were also seen sporting alligator handbags, which further increased their demand and popularity.
These handbags are one of the most popular luxury brand goods on the market for women. In fact, many alligator handbags for sale today are a valuable investment for any fashion-forward woman. From those looking for a classic, timeless treasure to trend-setting individuals who love to make a statement, such handbags are an unsurpassed accessory to a stylish wardrobe.
For those looking to keep it classic, vintage alligator handbags from the early 20th century are the favorable choice. Some of these more naturally-hued handbags also make excellent historical collection pieces. For those who prefer custom-made bags with a classic twist, look for modern designers who craft handbags that are reminiscent of bygone eras.
Individuals who like to make a stunning entrance may prefer a funkier vintage alligator handbag from the 1940's or 50's. Many modern alligator handbags for sale in today's marketplace also feature dramatic hues and shapes resembling their vintage alligator handbag predecessors. These trendy accessories are often the centerpiece of fashion conversations around the world.
However, no matter what the style and color is, always choose quality craftsmanship. Quality designers are artisans with knowledge and skill that they've acquired over years of hard work. Genuine alligator handbags and vintage alligator handbags should always display characteristics of an artistically handled skin. Quality craftsmanship is most evident in the flexibility, symmetry and pattern of the skin's texture and appearance.
The alligator handbag's overall condition is yet another factor to keep in mind when making a selection. Genuine alligator handbags should always be immaculate and free of unsightly damage such as cracks and peeling. Also, unnatural additions or repairs should never be apparent. Antique or vintage alligator handbags should still be in good condition as well.
No matter the style, shape or age,genuine alligator handbags always lend graceful aplomb to modern fashionistas everywhere. When making a selection from the multitude of vintage alligator handbags or alligator handbags for sale in today's marketplace, be sure to choose quality craftsmanship above all else. Whether you want to stand out from the crowd or simply stay classic, a quality alligator handbag ensures you'll look good doing it.